Welcome to my hyperactive, creative life reflecting my passion for art, writing, sewing, the Great Lakes, Beaver Island, Bay City (Michigan), Florida, my experiences with breast cancer, and life. Above find links to my art, books, resume, published work and contact info. Click on the following links to quickly check out my note cards, posters, pillows and cushions, wool hats, and books currently for sale on my Etsy store. To the right find the archives to the past blog posts and to my Breast Cancer Blog (which is thankfully out of date as I go into my eighth survival year). (Photo by Marie Marfia.)
CURRENT NEWS  This summer (July 2015) my alphabetical delights, lessons and misadventures adopting a small dog finally went public: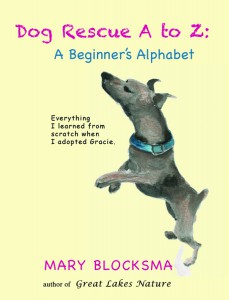 I'm a free spirit, independent—fo rtwenty years I couldn't tolerate any kind of dependent, not even a houseplant. So no one was more surprised than I was—and my friends and family were really, really surprised—that I had adopted a dog. Now you can enjoy the steep learning curve I shared with Gracie, my astonishing four-year-old Miniature Pinscher. Never having heard of a Min Pin was only the beginning of my doggie ignorance, and Gracie was also surprisingly untrained for her age. Now, more than two years later, Gracie has become a sweet, mostly well-trained companion, with some unpredictable skills—yesterday she caught four flies in ten minutes, far better than my swatter kill. Or, as my friends often suggest, Gracie has done a good job training me. Enjoy our adventures in this enter-training, useful memoir divided alphabetically into seventy-one categories, an indispensable resource for first-time dog adopters and dog lovers all.
116 pages, b/w photographs and drawings by Mary Blocksma, 5.25 x 7.25 inches. $15.    Purchase our new book on my etsy store: Beaverislandarts.etsy.com.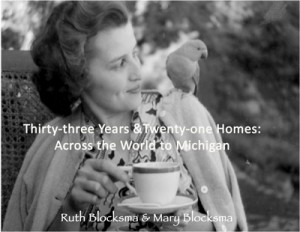 Last year (2014)  my mother, Ruth Blocksma, with a little help from me, published a memoir of her early life and marriage, including her years in Pakistan with my father, Dr. Ralph Blocksma, shortly after the India/Pakistan Partition where he helped develop the United Christian Hospital. Her book, titled Thirty-three Years and Twenty-one Homes: Across the World to Michigan, reflects much of my life as well as hers. Writing during her 94th year, my mother describes her early life as the ninth child of immigrant intellectuals, her girlhood and education in Michigan, and early marriage, including years as a "war widow. The book will be available by April 1st and I am accepting orders now. Email me at mblocksma@yahoo.com or call 989-894-5925 to order your copy, or to inquire after our excellent discounts to bookstores and libraries. THANKS!
Thirty-three Years & Twenty-one Homes: Across the World to Michigan,
by Ruth Blocksma & Mary Blocksma
ISBN-13 978-0-9708575-4-5
Paperback, 144 pages with black & white photographs      $20.00